You're ready to hit the beach this summer but don't already have an inspiring beach retreat at the ready? Luckily, we have plenty of ideas for you. A beach home is a great idea — not only is real estate always a smart investment, but it's also going to save you money in the long run when you're going on vacation. But where to start with decorating? Beach homes come in all types — you can go for a more modern, clean lines look, a classic New England vibe, or even a simple coastal feel with lots of blues and neutrals. Whichever look you choose, make sure to stick with the theme.
Beach retreats also have other advantages. Living on the coast makes it easier to access popular destinations and being able to walk to the ocean or seaside towns will save you money over time. It's also much more relaxing to have your own home to return to at the end of a long summer day. Lastly, coastal homes often fetch a far higher price than homes anywhere else, meaning that your beach retreat will only pay itself back over time.
Already dreaming of sand between your toes and days spent lounging on a hammock on the porch? Well, let's dive into some inspiration then.
1. Coastal creams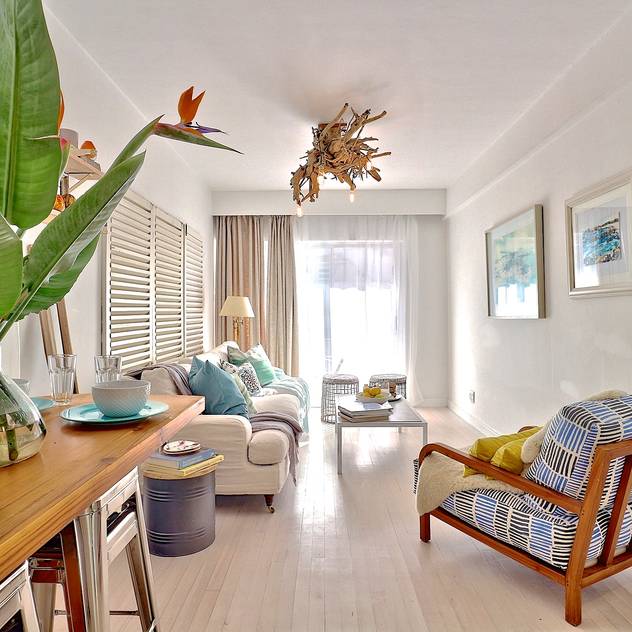 This beachy living room feels complete with coastal blues and creamy white and beige, the ideal colours for living near the coast. Try this out with your own beach retreat by reaching for blue patterns and neutral accents.
2. Driftwood bathroom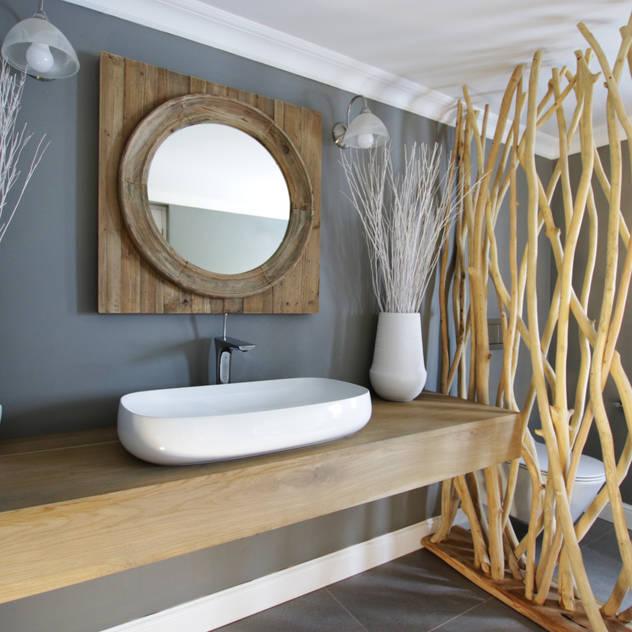 An amazing bathroom that will stun any guest! We love the way this mirror looks like driftwood and the accent of wood dividing the toilet and sink.
3. Beachy living room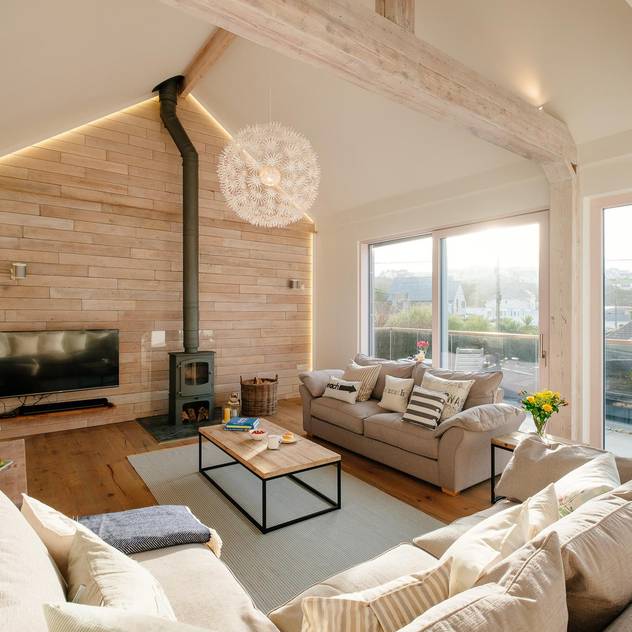 This living room looks as if it must be right in the heart of Los Angeles or Malibu! The light wood wall and beams look amazing with the neutral beiges and creams. For a beachier look, add lots of wooden pieces and even some shells.
4. Modern coastal living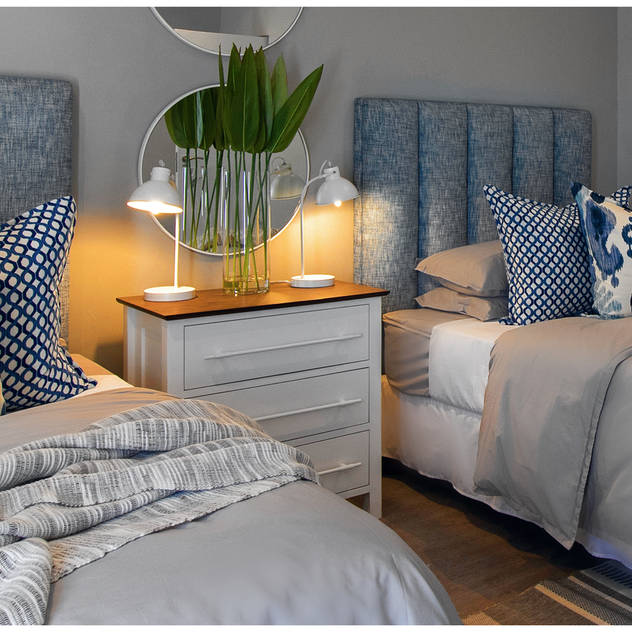 Love the look of a coastal bedroom but want a more modern take? Reach for darker blues with grey tones and pair it with beige. We love the look of these headboards with the beige bedding and lovely wooden side table.
5. Seaside patio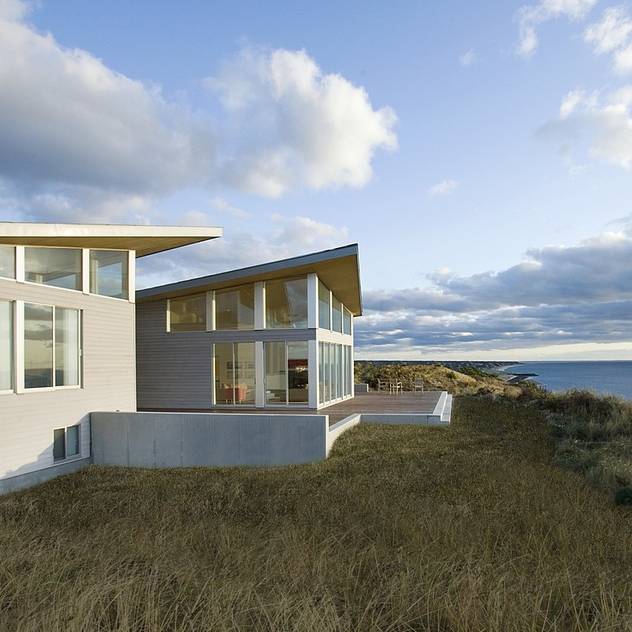 Living by the seaside doesn't always mean amazing views, but this home is certainly an exception! Imagine the views of the ocean while having dinner outside on your own patio. Go for wooden or adirondack chairs to withstand the ocean breeze.
6. Ocean bar
If you want a place to entertain guests, consider building a bar near the window with views of the ocean! Not only is this convenient, but it'll also be a great place to have breakfast in the morning.
7. Contemporary coastal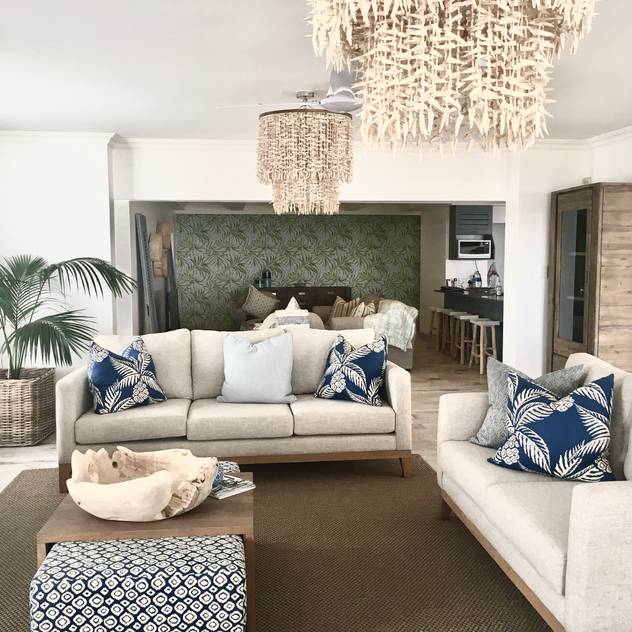 These cream-coloured couches seem rich and extravagant, but they're made much more casual with these dark blue palm-patterned throw pillows. Small accents can make all the difference!



8. Beams and beiges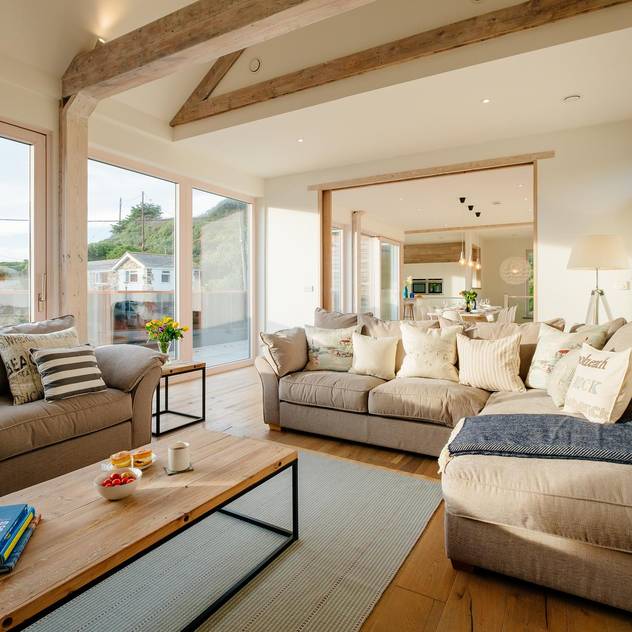 Keeping the natural wooden beams of a house is a great way to achieve a beachy look. Pair this with lots of beige and accents of blue or green and you'll feel beachy vibes all throughout the house!
9. Patio with a view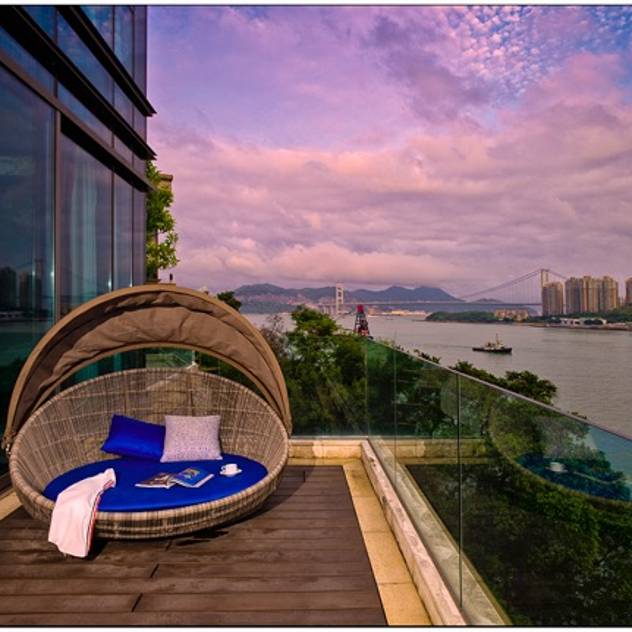 Wow! This spectacular patio featuring a wicker bubble chair for sitting outside and soaking in that view looks like the perfect place to lounge around all summer.
10. Go for blue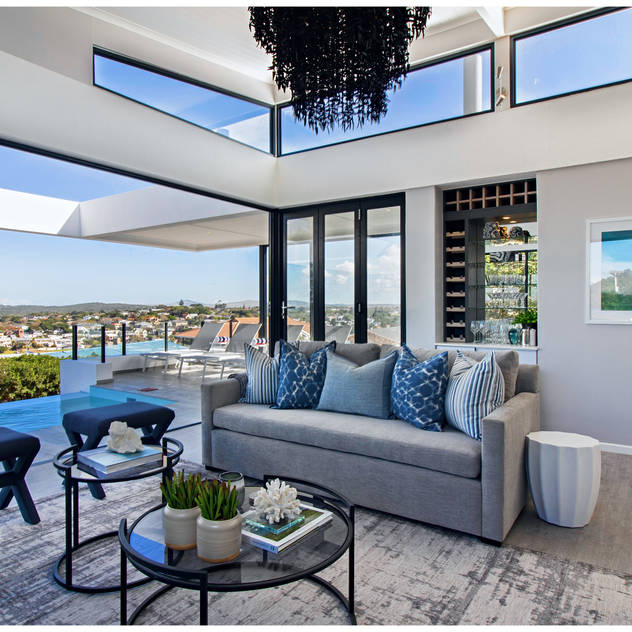 Don't be afraid to go all out with blue! When done right — with enough soft tones to balance out any bright blue accents — lots of blue will feel more seaside chic than silly.
11. Outdoor dining tables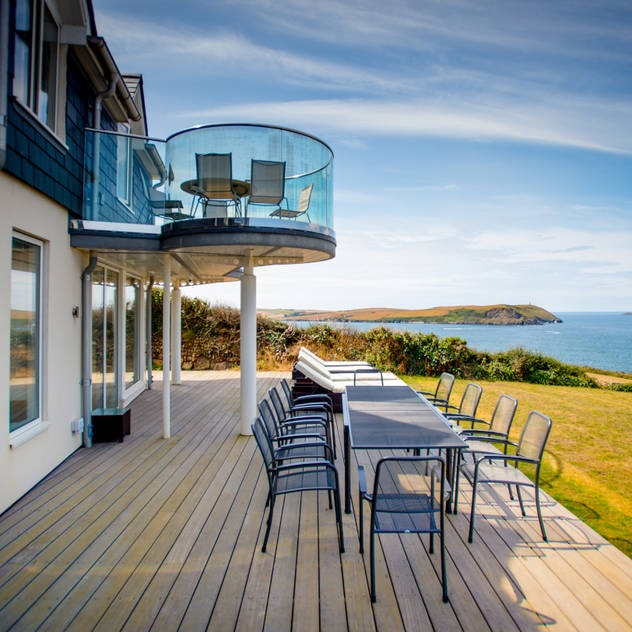 A wonderful idea if you have a terrace or patio: outdoor dining tables. Imagine serving your family or guests an amazing breakfast or barbecue dinner at this spot!
12. Beachy browns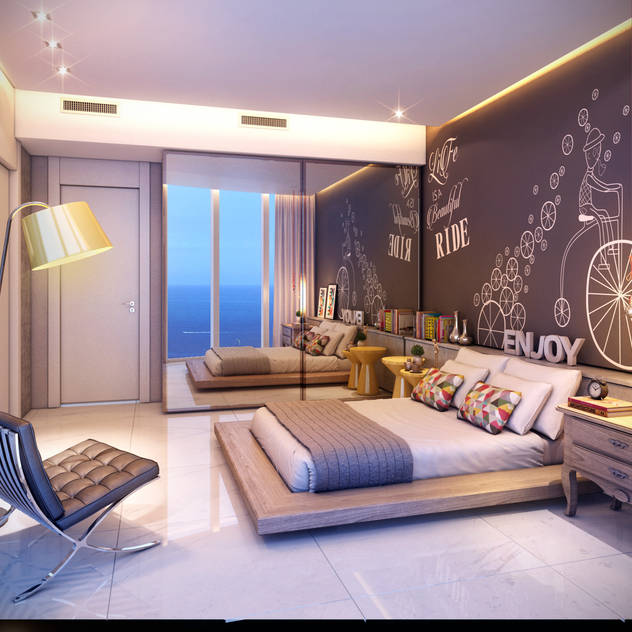 Yes, you can make browns beachy! Paired with beiges and greys and enough light wood, you can achieve a beachy look by picking the right patterns and materials. Just add a sea view and you're all set!
13. Ocean views from the pool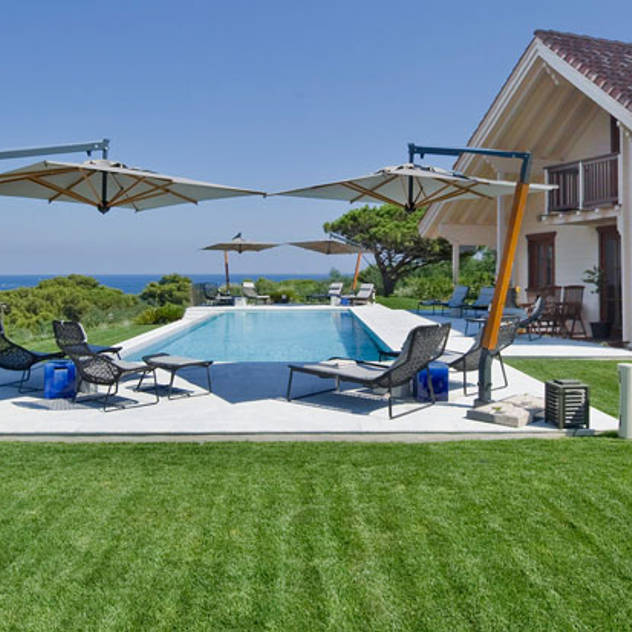 Now while we all can't have a pool with ocean views, it's still a good idea to invest in a home with a pool near the beach. Sometimes we can have just as much fun in our own backyard and enjoy the sea breeze from the comfort of our own home!
14. Window to the water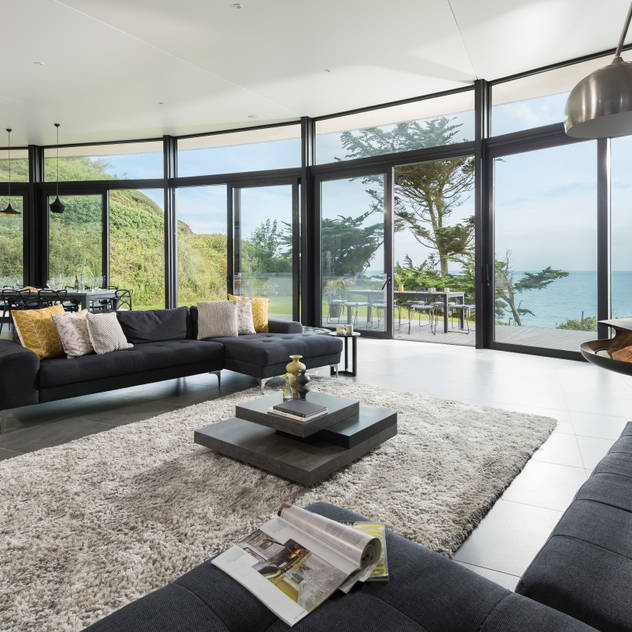 Look out the window at that water! Installing plenty of windows in a beach retreat is a must-do — who'd want to miss that view? We recommend speaking with a professional if you want to build a beach retreat with enough windows to let in the light.
Courtesy of

Need more information? Fill in the form below and we will contact you!
OkCancel