All right, so you are probably shaking your head and telling yourself that there is no way today's 360° discovery could come in under R400,000 as that is just not how prefab housing prices work – but it did. Of course the price does not cover the plot of land, but only the physical residential structure. But regardless, this charming abode (which gives one a clear idea about prefab houses prices in South Africa) is still a steal!

Designed by Turkish home-builder company Tuna Prefabrik, the idea behind this prefab structure (also called a modular home) was to offer maximum space and functionality for minimal cost, which was achieved by clever techniques and creative thinking.

The front view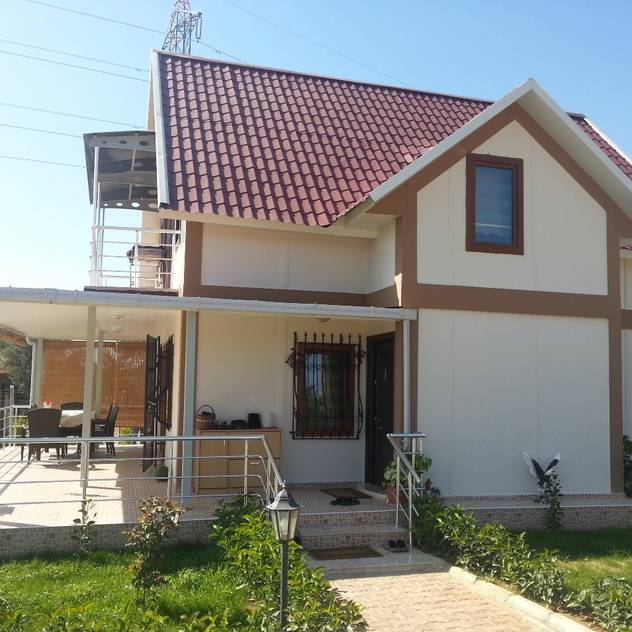 The front façade makes the house look like an appealing and very traditionally styled home – not at all what we would expect for such a low price. The secret, however, is that this is actually a prefabricated structure, with the large panels being designed and manufactured off site before transported to the desired location.
Not only does this make a big difference in building costs, but construction time is also shortened considerably.
The floor plans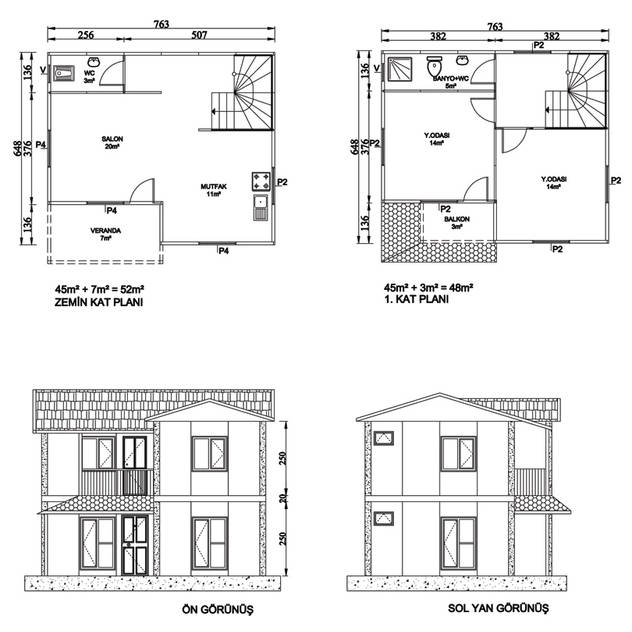 As we can see from the architectural drawings of this prefab house, this little creation seems like the perfect starter home for a young couple or small family. It offers two bedrooms, the benefit of a downstairs water closet, a main bathroom on the top-floor, and an open-plan living space on the ground-level.
But an active social life was not the only reason for the open-plan; due to the house's rather modest dimensions, internal walls would only have decreased the size even more (not to mention upped the price), which is why only the essential interior walls remained in the final design.
Social spaces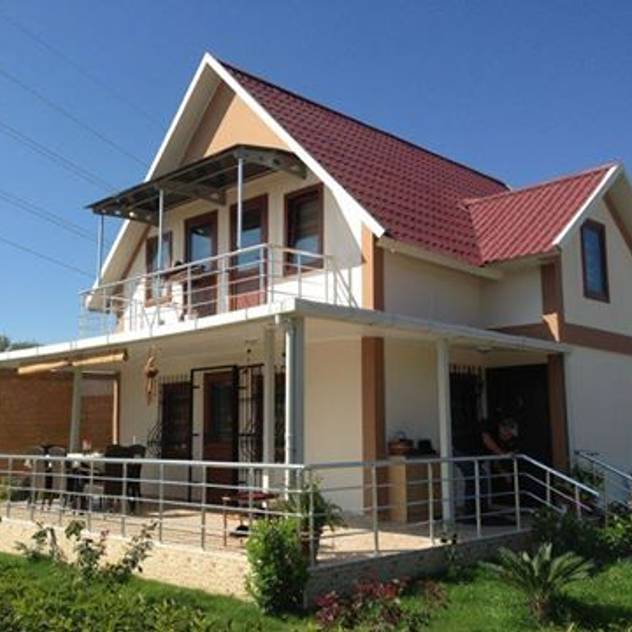 But just because a few walls were excluded does not mean this house is an unsociable character. Those integrated terraces on both floors add such a stunning potential in terms of entertaining and luxury, not to mention furniture- and décor items.
The first-floor installation flaunts a look that is almost industrial, which also could have helped to keep materials costs down; however, the ground-floor looks much more homey and traditional, with the steel fence adding a touch of modern style to the scene.



The garden's look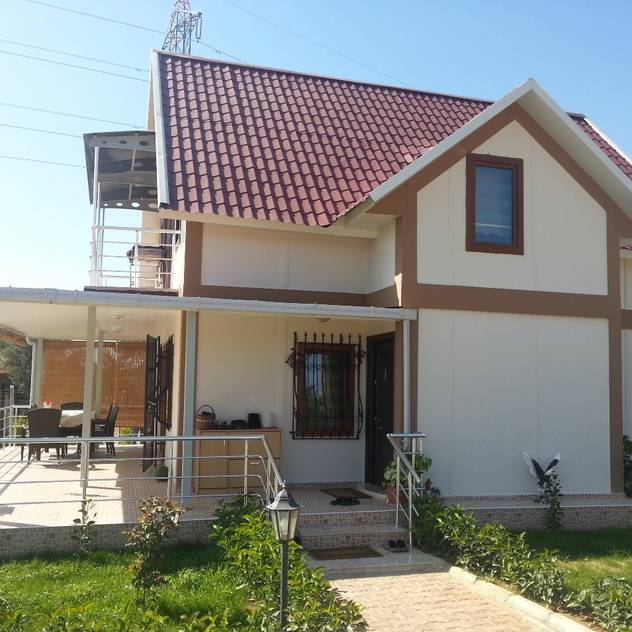 Even though the pleasant garden surrounding the house isn't part and parcel of the design, we still think these homeowners (whether or not they made use of professional gardeners and landscape architects) did a fine job in securing a fresh and lush exterior space.
Just look at the clever touches of potted plants spilling over onto the terraces and peeking out from behind corners. So simple, yet so stylish!
The advantages of prefabs: Energy efficiency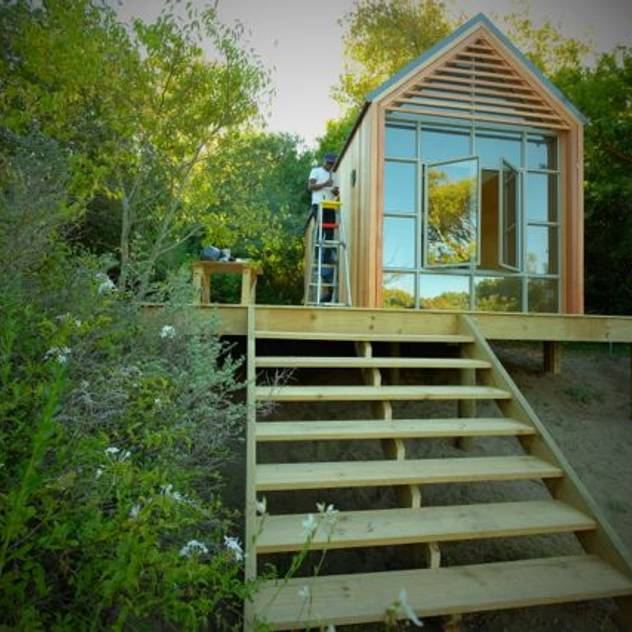 Seeking houses for sale in Cape Town under R400 000 (or wherever you live)? Just wait until you hear about the benefits of prefab houses. Thanks to their tight seams and state-of-the-art windows that keep the heat inside, prefab houses can help to reduce your energy bills. And due to the tight construction, prefab / modular homes (in South Africa and abroad) are also better equipped to withstand natural disasters.
The advantages of prefabs: Speedy construction time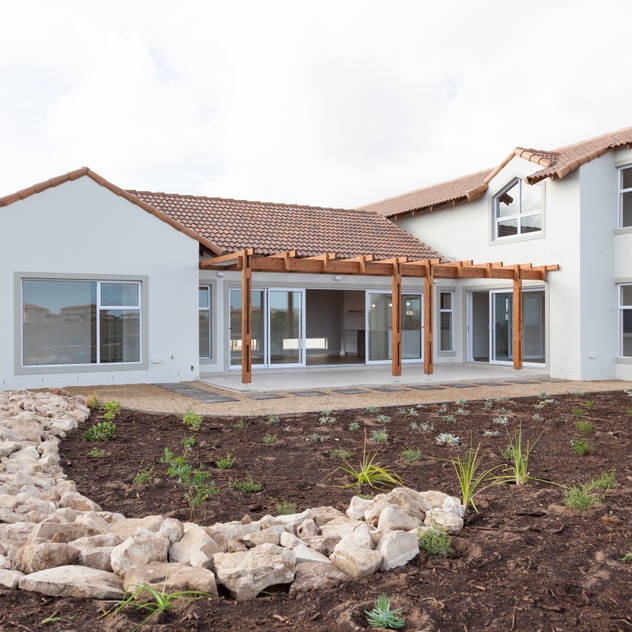 The enticing prices of prefabricated buildings in South Africa are one thing, but their fast construction times is another. As these structures are designed off site, it's a simple matter of assembling the various pieces once they've been dispatched to the appropriate building site. This translates into having to spend fewer days on site with those builders/labourers, plus less vulnerability to weather issues and other factors that can lengthen construction time.
Courtesy of Johannes Van Graan of Homify

Need more information? Fill in the form below and we will contact you!
OkCancel