There is no quick fix to decide on the perfect indoor braai as it is rather a subjective reflection of character, personality and overall choice. However, once determining whether there is space for your braai room, it is also best to determine what type of braai will best suit the home.
After all who wouldn't want to have access to this fun way of cooking any day of the week regardless of the weather conditions? This healthy and functional form of cooking is not only a means to eat, but will also be an entertainment centre of the home where fun and laughter can be enjoyed together with family and friends.
Of course there is a definite link between a braai space, a dining room and the kitchen, with these three spaces being committed to socialising, entertaining and, obviously, dining. So, to inspire you with some braai room ideas, let's see some tips and ideas to make your braai space a tad more stylish, functional, and welcoming.
Grand grill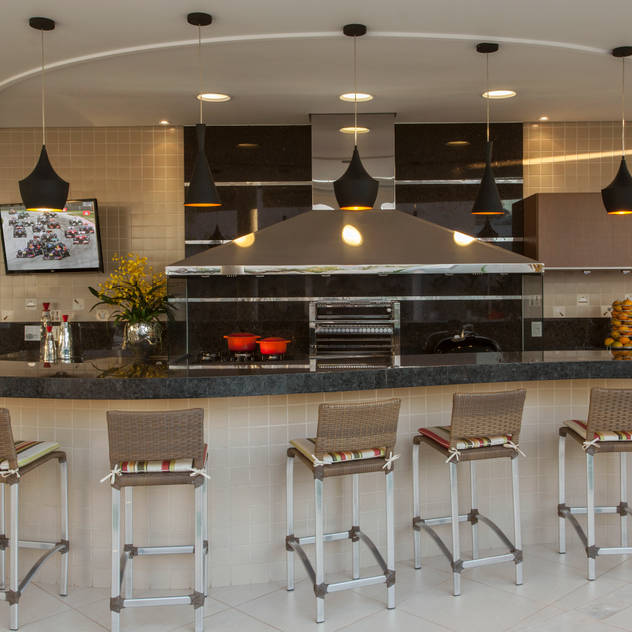 It's important to decide on or build on extra space for an indoor braai such as this one. It makes it that much easier to allocate space for all the braai essentials and stock up well in advance or even opt to add in some extra entertainment for those sport match weekends.
The architect here did everything right by ensuring that the basics were covered, but made a plan for optional extras to be added in. The marble countertops are easy to clean and maintain, while a high rise seating area makes this a family friendly option too. With enough storage space for all the braai essentials.
The stunning decor of the grill wall makes for an even more appealing experience, while the colours used provide a homely atmosphere. The addition of the TV ensures that guests and grillers alike will enjoy the game while sharing a meal with the team.
Roofing required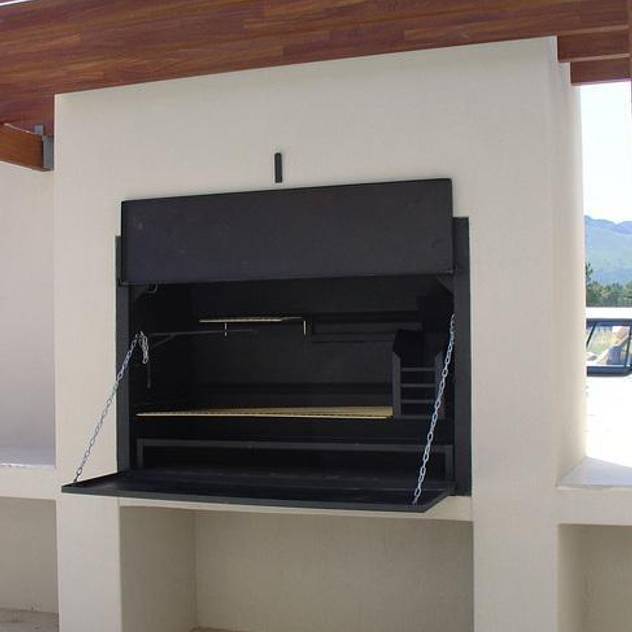 As indoor space would go, the requirement includes a roof too. This example of an indoor braai shows a simple wooden roof, understated yet classic and not at all over the top. If you are going for an indoor braai with practicality and budget in mind this might be the perfect choice for you.
When it comes to indoor braai ideas, this indoor space is perfect for a rainy day when you have to cancel an outdoor picnic on account of bad weather. The trouble of planning a get-together and sourcing all the items has already been done, so call everyone over and still have a good time.
The braai design leaves space below for storage of wood, charcoal or the tools and instruments required for a good old-fashioned quality braai. It makes for a wonderful, attractive addition to your home and will ensure that lived in family feel which home owners generally long for.
Floored for it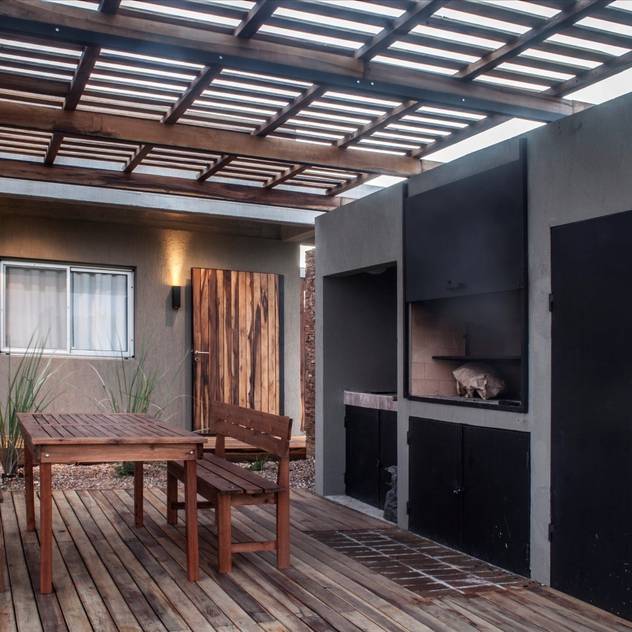 An indoor braai area requires thought and vision, but it also needs a floor. The options are limitless with stone, tile, bricks or even wood to be considered. Each has its own drawbacks and if done properly will probably make your fantasy amazing!
The choice of natural wooden flooring here has an outdoor appeal while remaining undercover and provides a natural appeal. The contemporary colour of the wooden floor makes this built-on after thought a masterpiece in design and decor, the floor includes a bricked space just below the braai in case of sparks, which is a stylish safety precaution too.
The inclusion of a wooden seating area matches the surrounding decor of wooden flooring and door, while the roof is sort of mirrored in effect, while allowing in a steady flow of natural light. The black metal grill area and the similar storage space allows the natural wood to be a focus of the indoor braai, while the dash of greenery makes it a fantastic design element.
Modern marvel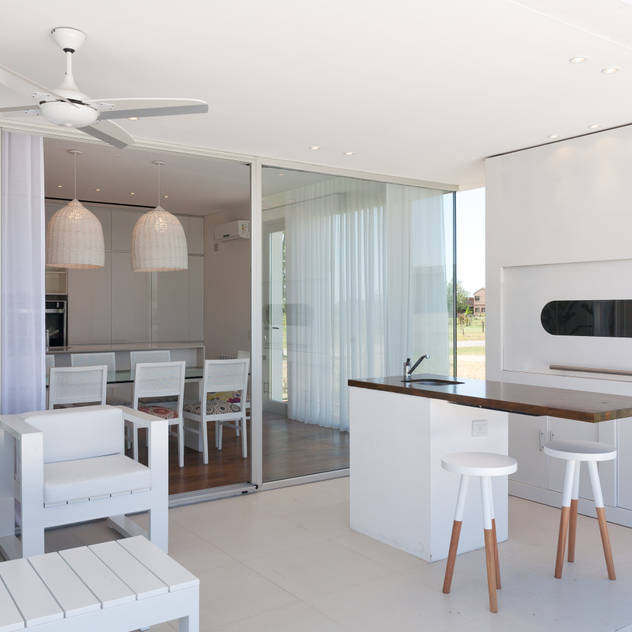 This design and colour theme provide a totally different approach to the modern indoor braai area, it's all white look and feel was translated from the actually living space into the braai, making it something excitingly new and just brilliant to see and experience. This example is modern minimalist across all platforms!
While the choices of actually braai areas are limitless and the possibilities endless, it is highly imperative that the owner make a choice that they will be happy with for a long period of time without getting bored or frustrated. Built-in braai ideas and designs can even be an exciting project for the family!
Indoor braais can be similar to this in build and come in a variety of colours or they can be gas fired and include a smoker for that extra added flavour. Whatever the choice, just make sure to take all safety precautions in case of fire.



Perfectly placed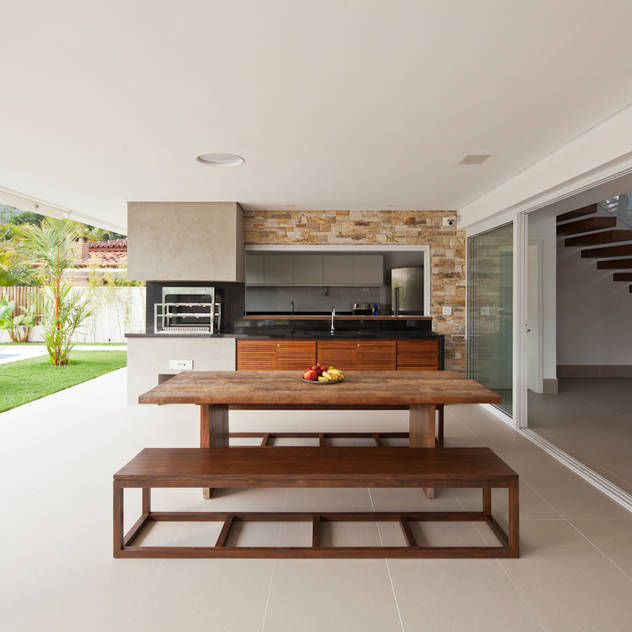 This patio and undercover braai area incorporates all that is necessary to ensure a wonderful and entertaining family time, a well thought-out addition to a home with generous space for family and friends to sit, eat, laugh and make memories. The incorporation of a braai space such as this means that healthy, grilled food can be eaten daily!
A seating area is essential for those public holiday and weekend braai days where family and friends often invite themselves over for a social gathering. The table and benches looks like your very own picnic spot in your own home! Perfect for the hot summer days just around the corner.
This living space is great for a late night party or even a family brunch, it even has its very own kitchen! All perfectly suited to match the environment and the cosy inviting feel that a braai area calls on. Who wouldn't want to style their home on this one?
Country charm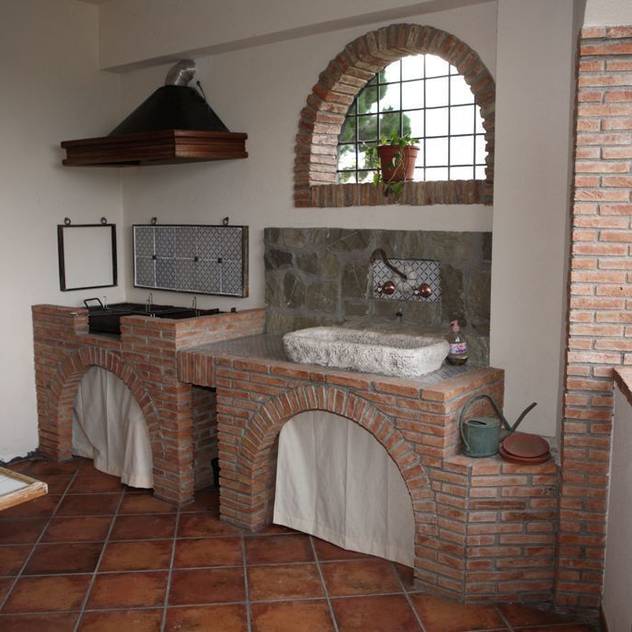 This example shows the addition of an indoor braai even with limited space, the idea seems to have an old-fashioned appeal about it and although it is a work in progress it does have a lot of potential for an even more attractive grill.
The incorporation of a braai into the brick work seems like a good idea for a budget-wise DIY project such as this one and even has an extractor added in to ensure any smoke is dispersed of quickly and efficiently. The inclusion of a rustic looking tap and sink make for quick and easy clean up of any utensils used during the braai.
The arch design has a sort of bygone era charm about it and the decor added as storage allows for an uncluttered approach. The brick work used for the actual braai is carried through to the pillar and window frame allowing for that idea to be carried through, this certainly makes for a charming design.
Retro rock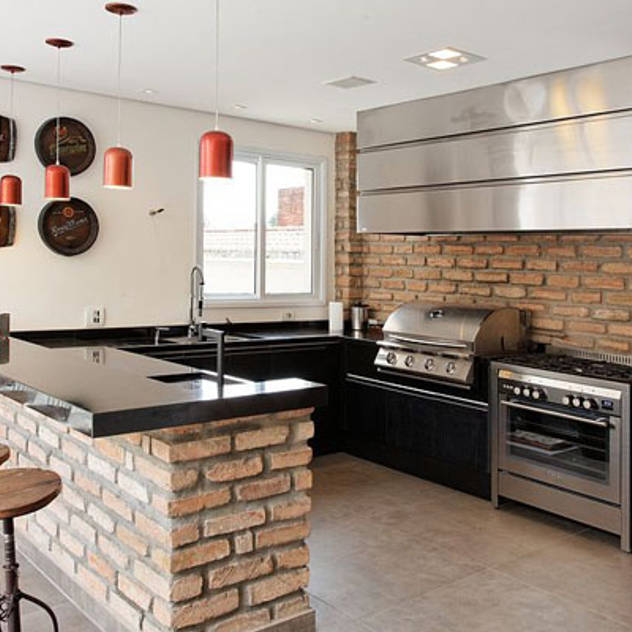 This classic example of lighting ideas for your indoor braai seems like a modern take of something out of the 1970's, it's fun, functional and red low hanging lights which provides a spotlight kind of intimacy, perfect for any occasion. While the use of black marble counter tops and seating area has a rock and roll edge.

The brick work makes this idea useful both as an indoor braai or even a kitchen idea! The extra spotlights placed in the ceiling ensure that enough light is available for a great cooking experience, while adding to the inviting atmosphere. The excited smoker grill placed next to the gas hob is an adequate use of space with enough area under the counter for storage of supplies. The large extractor across both cooking areas is almost industrial in its appeal, but it blends in perfectly with this dynamic design.

Homely harmony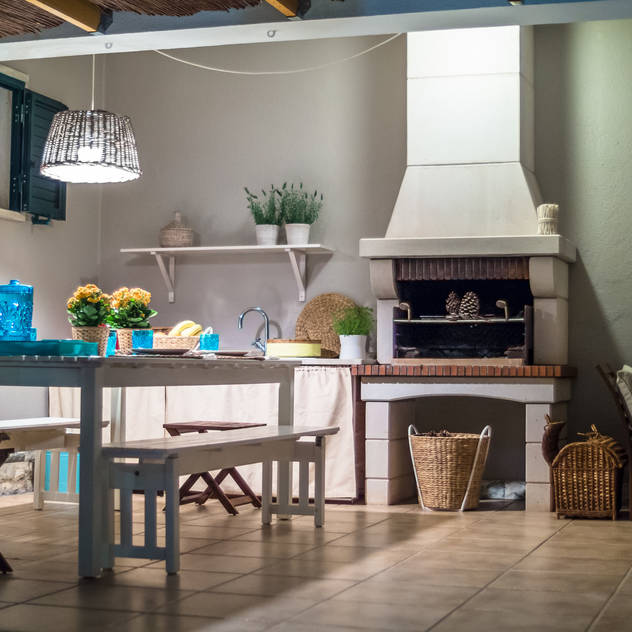 Depicted here is a wonderful classic look that resembles a 1950's kitchen with a modern twist. Its pleasant atmosphere and neutral use of colour allows the indoor braai to be the focus here, it's all about that braai yes! While many indoor braai areas look to new modern aspects for inspiration, this one has a timeless quality of a country home.
The wooden element in the seating area and the slightly visible brick work of the braai provide a different touch, while the wicker basket detail serves as both decoration and extra storage, how clever right? Storage for main braai goods is also available under the sink and is hidden away by a curtain.
Other details added to this lovely living space include the decorative flowers located in many cute spaces and a 'Carpe Diem' sign right next to the braai. Isn't it time we seize the day too and get inspired to build our own indoor braai at home?
Styling your braai room in the 2010s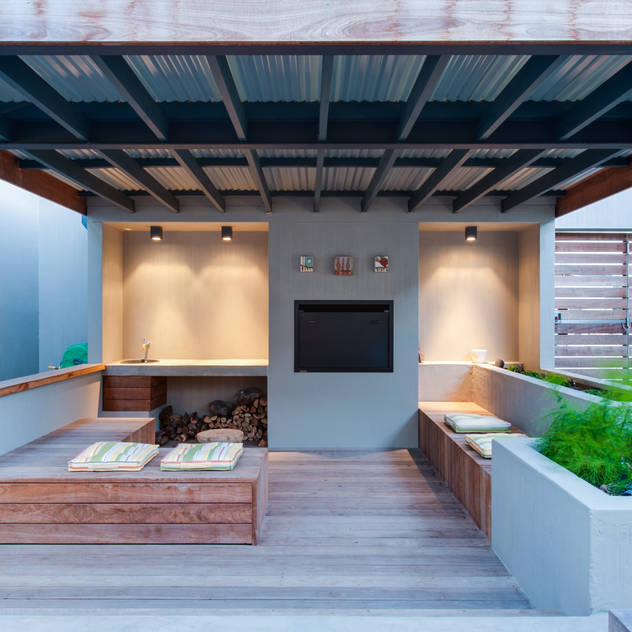 When it comes to modern-day braai room ideas, we've got some recommendations.
Space and layout: More and more Architects are designing houses with the braai room as a fully functional part of the floor plan. Open-plan layouts aid in braai spaces spilling elegantly into other parts of the house, but also exterior areas like patios and balconies.
Fixtures: Stack-away doors in contemporary styles and neutral colours help to blur the lines between indoors and outdoors.
Food: To cater to a range of palates, your modern outdoor/indoor braai needs to present everything from fillet steaks and smoked ribs to potato salads and vegan-friendly dishes.
Drink: Craft beer, craft tonic, and craft gin. Add one or two wines, and don't forget about teetotallers.
Entertainment: Wireless speakers blasting some music off your phone or via a flat-screen television.
Courtesy of Homify | Aqeelah Bawah-Osman

Need more information? Fill in the form below and we will contact you!
OkCancel