Walk-in showers are one of life's ultimate luxuries… why not indulge in one yourself? One of the benefits of getting a walk-in shower is that you can install a shower head like a rain shower head, which can be very relaxing. This can help to simulate the relaxing feeling that some people get with baths.
Not only are walk-in showers a great-looking option for your bathroom, but they're also a very functional option. Rather than having to step into a tub, you can step right into the shower. This can also help a bathroom look more streamlined and sleek, especially because tubs often go unused. So if you're not a fan of baths, it might be best to go for a walk-in shower. Another benefit? They're a great idea if you want to create the illusion of more space in a bathroom.
1. Simple and small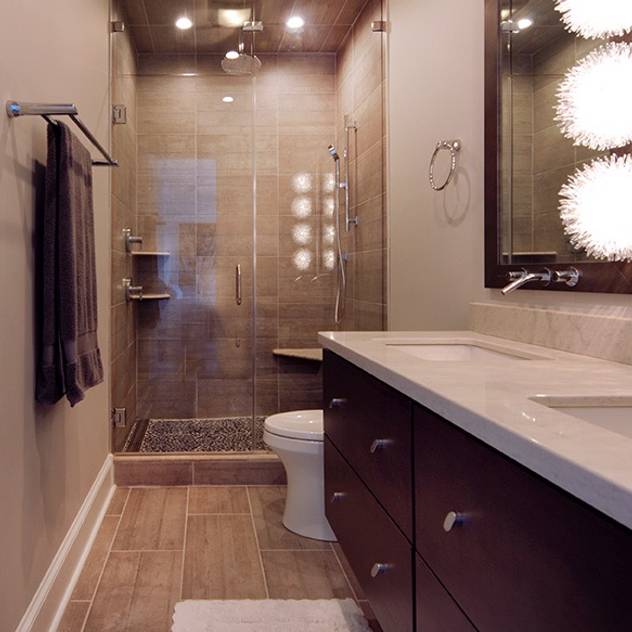 This walk-in shower is the perfect option if you have a small bathroom and want to keep things simple. While there's no separate tub, this shower has everything you need — a rain showerhead, two shelves to read your shampoo, and an extra handheld showerhead for ease of use. The see-through glass looks expensive and modern.
2. Stylish and comfortable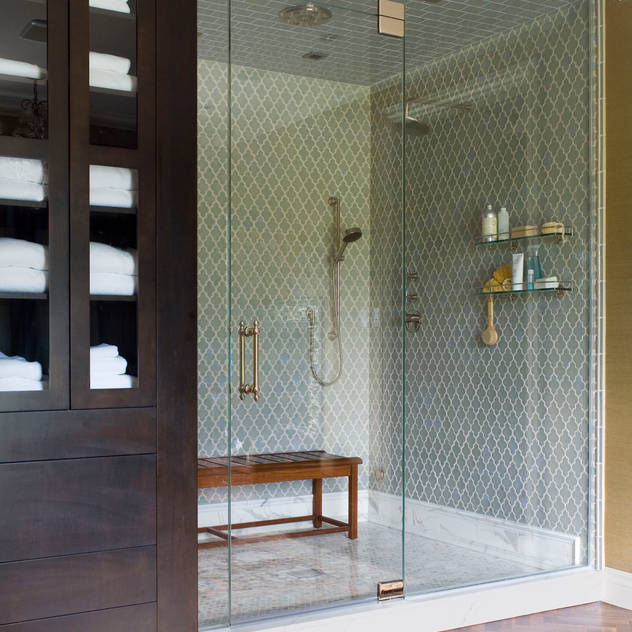 If you want a walk-in shower for the comfort factor, then this option is for you. This walk-in has enough space for a bench to allow for support, two shelves for toiletries, and both overhead and handheld showerheads. The tiling inside the shower is gorgeous, and we love the choice of a glass exterior.
3. Moody Stone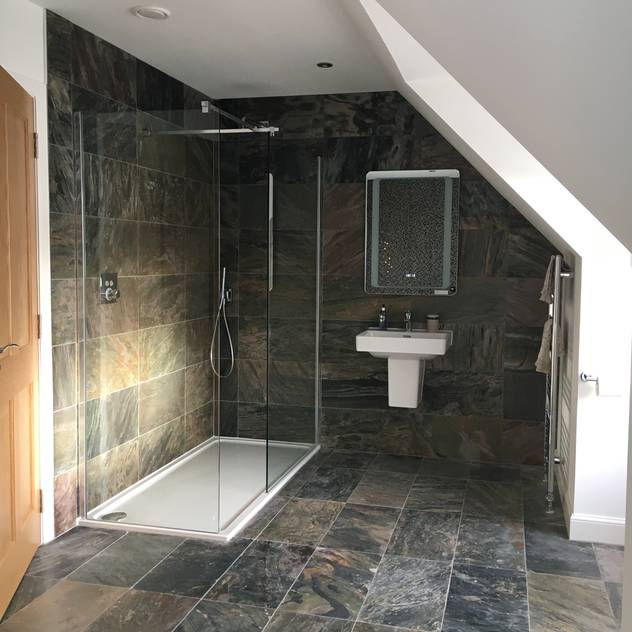 This moody bathroom made of stone is such a cool look whether you're living in the city or by the countryside. The choice of dark stone highlights the glass walk-in shower, which features a tiled white floor to separate the boundaries. Dark stone can indeed be a beautiful choice for the contemporary bathroom.
4. White and tiled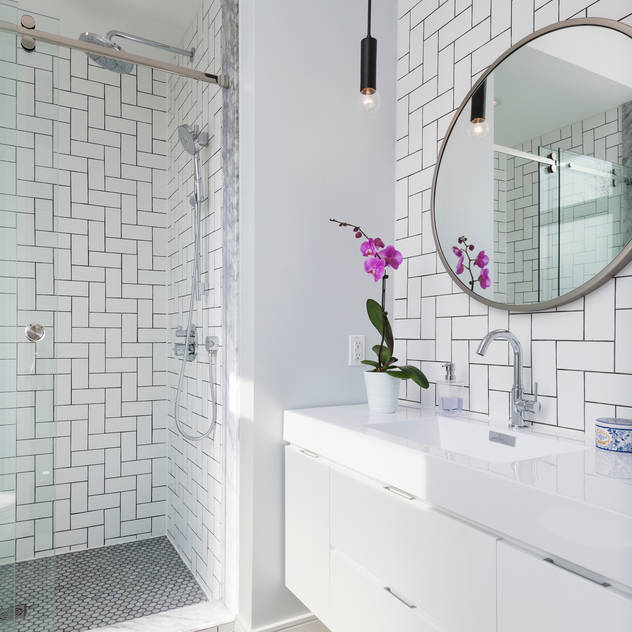 This all-white-tiled bathroom is chic and understated enough to fit into anyone's home — adding decor such as the orchids and a round mirror freshen the look. The dark grout stands out to create a minimalistic tile pattern. The shower itself is easy to step in and out of, and we could see this bathroom design being a great option if you live in a smaller apartment.
5. Separated and tiled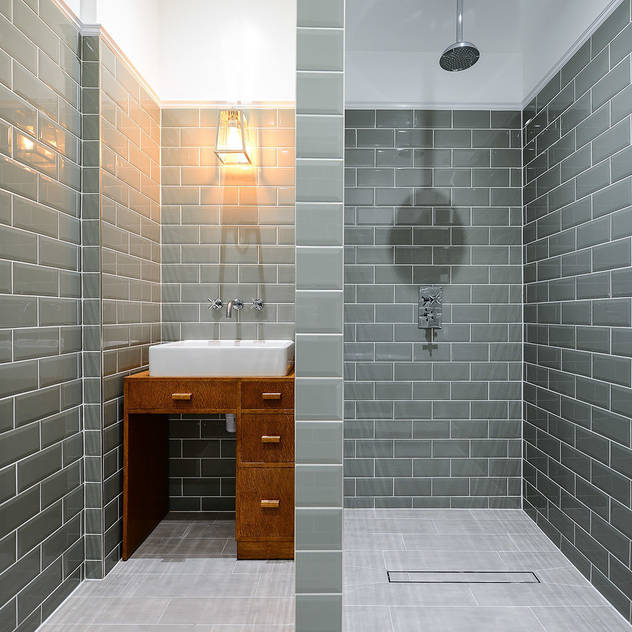 This tiled bathroom is truly unique — with a greyish seafoam tile, wooden counter with raised sink, and separation of the shower with a large wall. The great thing about this type of design is that the shower is kept open since there's no need for a glass separator — which means it's even easier to use.



6. Pretty marble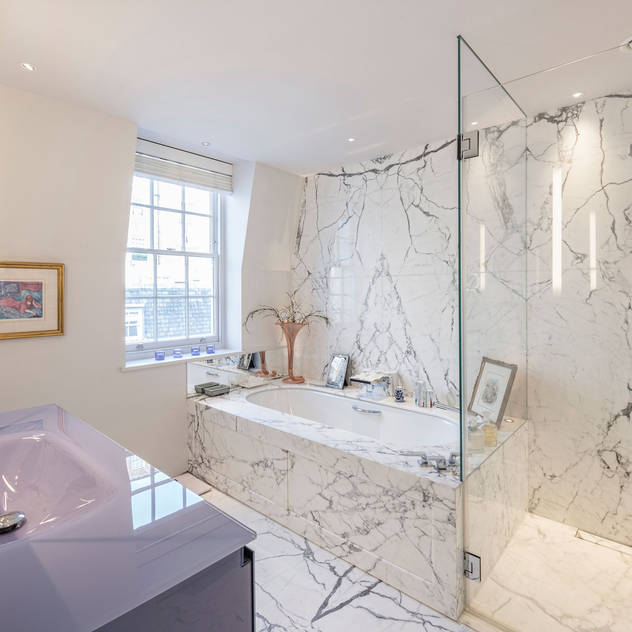 Is there anything more timeless than a bathroom filled with marble? We love the look of this black and cream marbled bathroom featuring a glass-paneled walk-in shower and marbled tub. You don't have to leave the tub out of the bathroom if you get a walk-in shower, so if you have the space, then certainly go for both! A professional can help you install them.
7. Mosaic tile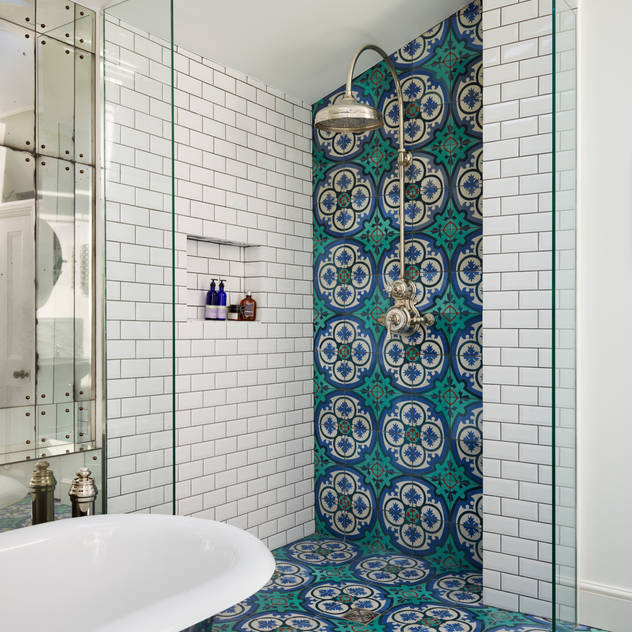 This exquisite mosaic tiled bathroom features a mosaic wall against the walk-in shower. We love the look of the metal showerhead too. The shower utilizes the nooks and crannies of the space well, plus there's a functional shelf built into the wall. This pretty tile reminds us of holidays, so every shower can be relaxing.
8. Open with light wood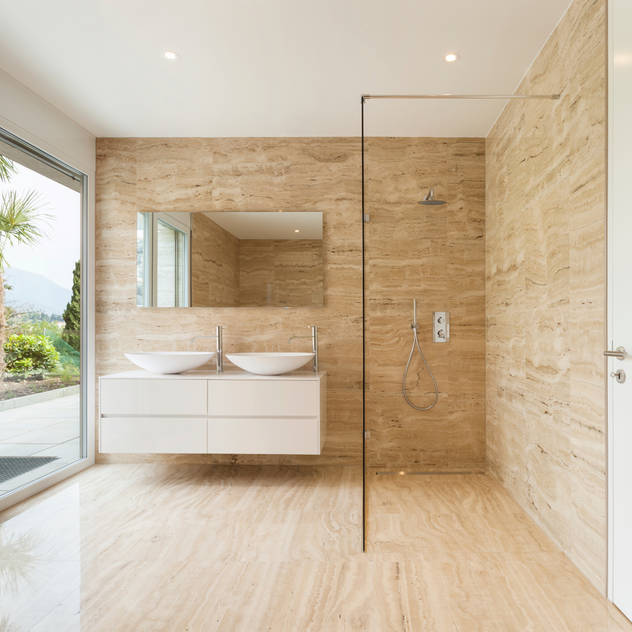 This open-plan bathroom features a see-through glass shower, double raised sinks, and beautiful light wood on the floor and walls. We love the simplicity of this design and the way the wood looks against the walk-in shower. This bathroom looks very modern and elegant.
9. Chic and modern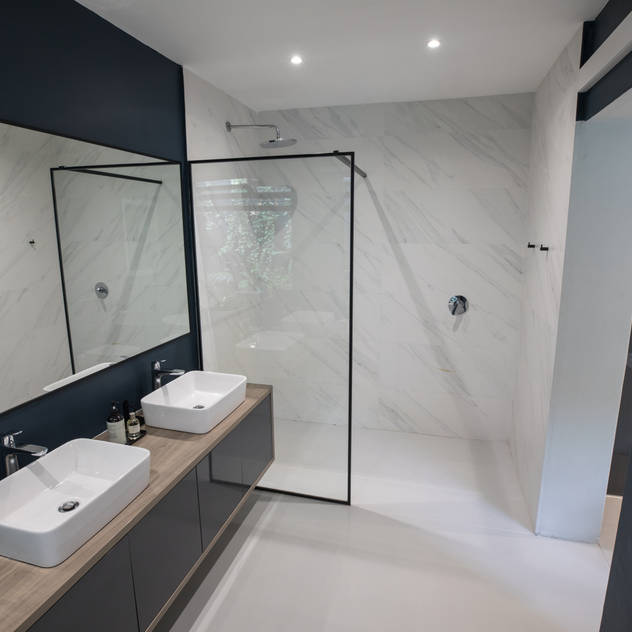 This modern bathroom features a walk-in shower with a small glass separator, two raised double sinks, and darker detailing on the walls. The shower is large and open, and it's a great idea to keep the space open with separators only as needed. We love the way this bathroom looks for a city dweller.
10. Bright and green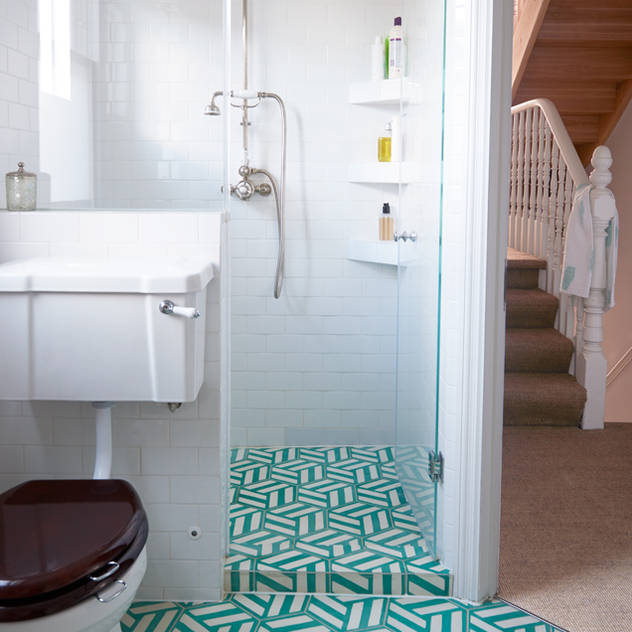 How lovely is this bright bathroom featuring green and white mosaic tiled flooring and an all-white interior? We love the 3-tiered shelving in the shower and the clever idea of putting the walk-in shower behind the toilet. If you're really tight on space, this is a great option.
11. Low light and contemporary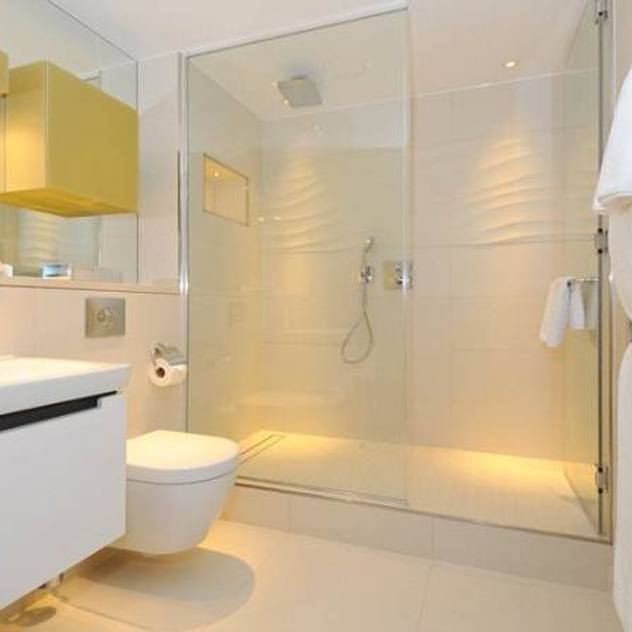 If you want ultimate relaxation, then work on lighting. This relaxed lighting situation, featuring dim lights in the shower, allows for a more relaxing experience in the shower. The walk-in shower also features a rain showerhead, handheld showerhead, and classic glass paneling.
Courtesy of Homify

Need more information? Fill in the form below and we will contact you!
OkCancel